Yesterday, we made a pretty big announcement — the first three Weekend Workshops are HERE.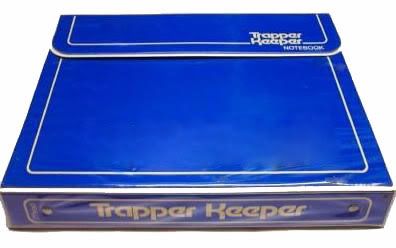 Grab your favorite pencil case and snazzy Trapper Keeper, it's time to go back to school!
Don't worry — you can stay in your PJ's, skip the bus, and get your learnin' on without ever leaving your desk chair.
Plus, *you* will pick the best days and times to step into our virtual classroom.
How is that possible?
Because the interwebs are amazing!
Each of our three workshops (Facebook Facelift, Mailing List Magic, and Plan Your Own Blog Tour) consists of six, step-by-step video lessons you can take when it fits in *your* schedule.
Pretty sweet, right?
Even better, these courses are *not* theory-laden snoozefests.
(Come on, you know us better than that!)
Each workshop is a down-and-dirty hands-on experience in building a major piece of your author abode from the ground up, led by your fearless (and fun) instructors — the Duolit team!
So grab your gloves and let's dig in, starting with the Facebook Facelift Workshop.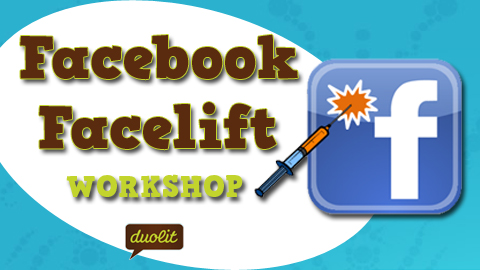 Why is Facebook worth your time?
As of May 2013, Facebook has 1.11 billion users.
That's a lot of people — more than three times the population of the entire United States.
By comparison, Twitter has 500 million users, Google + has 343 million, and Pinterest has 48.7 million.
With such a large, diverse, and active group of users (665 million users log-in on a daily basis)  you are statistically bound to find some interested readers who *will* become your crazy-dedicated fans on Facebook.
But to connect with them you need a *great* Facebook page, a strategy to find new fans, and a plan to post content they will love.
Here's the course breakdown: I will give you all of the above without sacrificing a huge chunk of your time.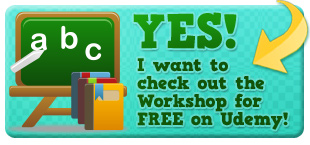 Lesson 1 | Learning the Ropes (Facebook's Lingo & Rules)
What the heck is the difference between pages and profiles?
How can your cover photo get you in trouble?
Lesson 2 | Getting the Look (Profile & Cover Photos)
What makes a great profile photo?
How often should you change your cover photo? Why is this so important?
Lesson 3 | All About Apps (Adding Flair & Functionality)
How can you link your website, Amazon author page, and other social media accounts to Facebook?
What's the ONLY way you can legally have a contest on Facebook?
Lesson 4 | Posting 101 (Sharing Photos & Links)
What are the different types of posts (and which are most popular)?
What's the secret to boosting fan interaction?
Lesson 5 | Letting it Grow (Getting Likes & Fans)
How can you find more fans for free?
What's the deal with Facebook ads and how do you set one up?
Lesson 6 | The Fan Plan (Posts *Your* Fans Will Love*)
How can you turn your reader profile into posts your fans will love?
Why will a Facebook posting schedule save you time and frustration?
How The Workshop Works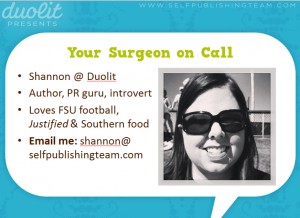 Each lesson contains 5 – 6 short videos with a slideshow (also available for a PDF download) and narration by your surgeon-on-call, me (Shannon)!
Don't worry, I'm not the newbie in the O.R. either — in my last job, I taught in-person Facebook workshops to small business owners here in St. Augustine.
So my previous instructor experience combined with my time in the trenches as an author trying to grow my own Facebook fan club gives me the perfect knowledge base and steady hands to lead you in this operation.
Whether you have an existing Facebook fan page or need to create one from scratch, this course will help you.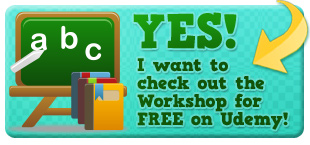 But don't take my word for it.
Our workshop-testing Weekend Warriors got a sneak peek at the Facebook Facelift course — here's what they had to say:
"Wow Shannon, this lesson has been so helpful, especially the Facebook Insights video (which I had been wondering what to do with) and of course the video on writing posts your fans will love. I got SO much out of this workshop! Hard to pick what I enjoyed the most, but I think the whole concept of having a post schedule is a lifesaver. Awesome workshop!"
Anne Belov, author of The Panda Chronicles:
"I'm learning way more than I thought I would… already have put some of it into practice and my "little blue line" is going up up up. Before I started your class, my reach (as of around March 20th or so) was around 100-250. I just looked at it today and it is almost at 5,000. Woot woot!"
"You have a great conversational style and you really present the information so that I can follow along, switch back and forth between screens as I set stuff up, pausing the video, and go back to see it again."
"I thought I knew quite a lot about mailing lists and Facebook, but I was wrong. Both [Magic Mailing List] and [Facebook Facelift] workshops contained lots of new knowledge for me. I think the additional bonus downloads and forms and things were the most helpful surprises."
"I would definitely recommend all three workshops to fellow authors. Not just authors, however. The social media aspects are relevant to all kinds of creative entrepreneurs like artists etc, and to other bloggers too."
Ready for a test drive?
Hop over to Udemy, grab the keys, and take the Facebook Facelift workshop for a test drive!
You can watch the first three videos of Lesson 1 (Introduction, 5 Mind-Blowing Facts About Facebook, and Profiles vs. Pages: What's the difference?) for free on the course page at Udemy.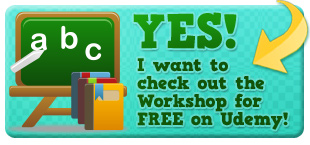 [ Click here to check out the Facebook Facelift Workshop ]
Do you have any other questions about the Facebook Facelift Workshop?
Give me a shout in the comments or shoot me an email if you want more information, I'm happy to jump out of my scrubs on and give you a consultation!
Check back tomorrow when Toni shares all the details about her Mailing List Magic workshop!