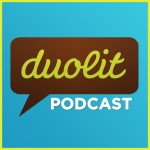 The rundown: [0:00] Personal updates; [1:35] Duolit updates; [6:10] Recommendations for service providers who work with first-time authors; [14:52] How to publish image-heavy books (photo books, cookbooks, etc); [21:38] eBook formatting process & time involved; [39:10] Justified and TV-watching update
Season 3, Episode 2
[ 43:54 ]
Play Now
|
Play in Popup
|
Download
Show Notes
[1:35] Duolit Updates
[6:10] David: Selecting service providers
Toni & Shannon: I am writing to ask your assistance. I would like to self publish, but would like your recommendations on finding someone that works with first time authors. I  wonder if you all do this, or would give me a few names of firms with which you are familiar.
[14:52] Lauren:  Image-heavy books
Hi Toni & Shannon…I'm wondering if you ever get questions about publishing image-heavy books? Photo, design, art, etc. I am looking for good resources for self-publishing these sorts of books. It looks like a lot of your articles are helpful for all sorts of self-publishers, but illustrated books are a category of their own, so I was curious if this has come up before.
[21:38] Monica: Formatting eBooks:
Hi guys! I've enjoyed your blog for months now, and I'm hoping to finish revising my novel this year. I want to draw up a schedule to help me do this (as you advise), and so I have a question: how long should I set aside for formatting my manuscript to publish as an ebook? It will be the first time I do it, but I do know my way around the computer, the web, and word processing software. Not much about coding, though.