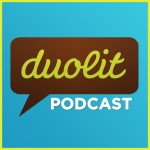 The rundown: [0:21] Excitement over new intro [2:34] Personal Updates [6:40] Duolit updates [9:55] How to find beta readers [19:20] What should fiction authors blog about? [27:30] KDP Select: Worth it? [42:10] Shannon's new favorite show and how it helps her writing.
Subscribe in iTunes | Podcast-only RSS Feed Link
Episode 3
[ 46:55 ]
Play Now
|
Play in Popup
|
Download
Show Notes
Note: Big thanks to Lee Stephen for our awesome podcast intro/outro
[9:55] Kate: I am wondering if you have any advice on how to find beta readers. I am publishing a memoir novella under a pen name and thus cannot ask my family and most of my friends to read it. I posted a request on my writers forum (WANA tribe) and on Twitter, but I don't have enough followers yet.
[19:20] Ophelia: I read a lot of blogs that talk about content marketing and adding value to your blog readers. It seems easy enough for a nonfiction writer, but how does a fiction writer do this?

[27:30] Lynda: Is KDP Worth It?