This week we've got a special guest post from longtime Duolit pal Catherine Ryan Howard. Following the success of her memoirs Mousetrapped: A Year and a Bit in Orlando and Backpacked: A Reluctant Trip Across Central America Catherine released non-fiction book on her self-publishing experiences entitled Self-Printed: The Sane Person's Guide to Self-Publishing. Now she's on a blog tour promoting her first novel, Results Not Typical.
In October 2010 I spoke at something called the One Stop Self-Publishing Conference in Dublin, Ireland. At the time I was barely a self-publisher – eight months before, I'd released a travel memoir called Mousetrapped: A Year and A Bit in Orlando, Florida and by feeling my way around things like Print-On-Demand, e-books and social media in the dark, I'd somehow managed to offload just under a thousand copies of it. It was my first time speaking publicly about self-publishing – in fact, I was only speaking because there'd been a problem with the person who was supposed to be – but I wasn't one to pass up an opportunity.
Nor was I one to heed the age-old advice of "never say never." At the end of the talk during the Q and A, I said I'd never self-publish a novel.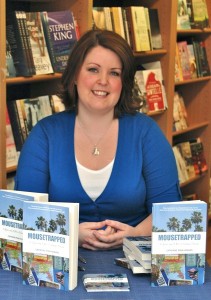 But yet I've just self-published a novel. So what changed?
When I self-published Mousetrapped, it was because I Have a Finished Book + POD and E-books are (Practically) Financial-Risk Free = Potential Income. I had just left my soul-destroying job as a paper pusher for Satan himself – or, at least, one of his closest disciples – to save my sanity and devote my time to writing a novel, and money was scarce. Even if the income from Mousetrapped was a trickle rather than a flood, it would help. I also believed based on the feedback that the book had got that it was a good book. It didn't deserve to spend its days in the darkness of a bottom drawer. I knew I could find readers for it, and I was up for the challenge.
But it was all just going to be a one-off. I never thought about my self-publishing future; as far as I was concerned, I didn't have one. This was just for now, for this book.
Having quit my job and moved back in with my parents, I was under a lot of pressure to achieve something in the publishing world. For me, this was getting that all important traditional publishing deal. But then Mousetrapped started selling, my blog started getting readers and "royalty" checks (they're just profits, really) started coming in. I was interviewed on the radio, in magazines and newspapers. And a wonderful, most unexpected thing happened: the pressure went away – because I was already achieving something in the book world. Friends and family who'd thought I'd just given up the day job to lie on the couch and watch talk shows all day saw that I wasn't, that I was working harder than I ever had before.
About eight months after I'd left the 9-5 to write full-time, there was a potential whiff of traditional publication success with the novel I'd completed, Results Not Typical. When it went away, I was devastated. But by the time it happened again, I'd enjoyed the trappings of being a successful self-publisher and I wasn't anywhere near as upset. It was just a temporary set-back; it would happen eventually for me, I believed. Don't underestimate what a steady income – a steady income from books – can do for a writer aspiring to traditional publication. The desperation, the all-or-nothing, the heartache when it doesn't happen – it all gets so much easier. Because you're already a success and if that dotted line appears, it'll just be a bonus.
So then I started thinking about what I could control, which was my self-publishing operation, and how it made waiting for the things I couldn't control, like getting published, so much easier to bear. I decided to take a few months off from trying to write a new, aimed-at-traditional-publication novel and use them to get my self-published profile into the best shape it could be. First, I wrote and released a how-to guide, Self-Printed: The Sane Person's Guide to Self-Publishing. Next, I wrote and released the sequel of sorts to Mousetrapped, Backpacked: A Reluctant Trip Across Central America.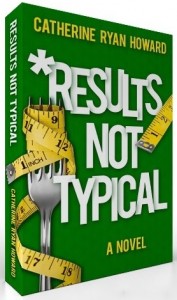 By then – this past summer – Results Not Typical, the aforementioned novel – had been rejected by several editors, who all said that it just wasn't what was selling in the UK/Ireland market. It's an unusual book that I describe as The Devil Wears Prada meets WeightWatchers, and chick-lit meets corporate satire. The new novel I was about to start work on was something completely different, as I felt there was little chance of getting an offer on another book exactly the same, as no doubt that too would be considered "not what's selling." I had an established readership (I'd sold about 8,000 books by this point) and I'd always wanted to see if I could repeat my results (no pun intended!) with fiction as all my books until now had been non-fiction. So I decided to self-publish it – and I did self-publish it at the beginning of this month.
I figure that even if a genie descends and grants me my every traditionally-published wish, it won't be for any book like Results Not Typical. Therefore self-publishing cannot in any way affect my chances of that happening. On the contrary, they could potentially improve them. How good would it look to an editor if, a few months down the line, I could submit to them a new, finished novel and a CV that says I've already sold twenty thousand books? Pretty good, I'd imagine. Of course it remains to be seen whether or not I'll be able to do that, but I'm up for the challenge of trying.
What it all boils down to, I think, is a shift in thinking. I realised that self-publishing isn't just a one-off for me, but that it could be my main source of income and the foundation on which I hope to build a long-lasting writing career. It could be the "proof" I need that I can sell books; a calling card with publishers; something to keep me from giving up altogether when yet another rejection comes in. But most of it, I can control it. And it's nice, in this uncertain publishing world, to have something I can control.
Catherine Ryan Howard is a 29-year-old writer, blogger and enthusiastic coffee-drinker. She currently lives in Cork, Ireland, where she divides her time between her desk and the sofa. She blogs at www.catherineryanhoward.com. 
Visit this link to Good Reads to enter for a chance to win one of five paperback copies of Catherine's new novel, Results Not Typical.