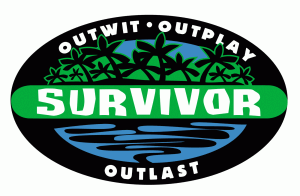 When Survivor premiered, it changed television forever.
After the crazypants finale of the first season, in which a perma-naked Richard Hatch prevailed over…whoever that other girl was (honestly, I remember Sue's vitriolic speech about rats and snakes but not the runner-up it was directed at), America wanted more.
More backstabbing, more angry speeches, more shady gameplay tactics — with the sole survivor left standing at the end of it all.
Sadly, I see many indie authors adopting this same approach — outwit, outplay, outlast — to their detriment, and to the detriment of their book sales.
Okay, maybe we're not throwing each other "under the bus" (another familiar reality show-ism) on our way to the top, but there's definitely an "every-man-for-himself" vibe prevalent in the indie community.  After all, your fellow authors are your competition…right?
The Lonely Road
If you've tried to go down the marketing path alone, the following probably sounds familiar: your book launch was awesome, but sales are slowing down. Your crazy-dedicated fanbase helped out initially, but momentum is waning and you're not sure why.
On top of the sales disappointment, you feel lonely. The self in self-publishing — once the source of pride and enthusiasm — is weighing you down.
What if you could kickstart that momentum, earn new fans and gain a powerful ally, simply by changing your thinking?
Outwit, Outplay, Outlast?
You see, on Survivor, this  me-centered mentality makes sense. After all, Jeff Probst is only handing out one million dollar prize. To get it, you have to be ruthless!
Is that really the situation, however, that we authors are in? Not really! Readers don't just read one book, or even just one author. There's plenty of room for lots of winners (sounds corny, but it's true)!
So, if you've found yourself thinking like a contestant on Survivor, it's time to switch it up — and start thinking like an Avenger.
All For One, And One For All!
You know you want to be part of The Avengers! I mean, here you have a group of superheroes, each awesome in their own right. But put them together? You can easily kick a little Loki booty.
The same goes for indies: stop thinking about other authors as your competition and start thinking of them as allies. You'll be much stronger together than you could be by yourself!
Now, you don't have to go the fancypants route of forming a collective (although those are surely effective and awesome), but you should find at least one author with whom to form a relationship. Here's why:
3 Reasons to Team Up With a Fellow Indie
You gain a brainstorming partner. Need to do *something* to market your book, but you're not quite sure what it is? Out of ideas for a blog post, giveaway or Twitter campaign? Need help figuring out where your readers hang out? Get in touch with your partner and have a brainstorming session. Sometimes a different perspective is all that's needed to spark inspiration!
You have someone to hold you accountable: You know it's happened to you: it's your scheduled marketing time, but you're not feeling motivated. There's an awesome marathon of Dirty Jobs on TV, a pile of housework to be done and, you know, all those workouts you have planned (in your mind). You need a kick in the pants, but you need it from someone who has been exactly where you are. Call up your partner for some motivation!
You can leverage the power of two fanbases: It's hard enough to build your own legion of crazy-dedicated fans. Finding your readers and keeping them engaged is no easy task. Teaming up with another author allows you to double your audience — in a snap!
Note: for partnerships to be effective, they must be genuine. You must enjoy each other's company and work! Also find a teammate follows reader-centered marketing practices; you want to be sure both of your fanbases are happy and engaged. If it doesn't feel like a good fit, politely pass on the partnership — it'll work out better for both parties.
4 Ways to Rock Your New Partnership
Now that you've found the perfect partner, it's time to get to work.
Before jumping into a campaign together, however, spend time getting to know one another. Chat via email, IM or Skype to get an even better feel for your partner's personality, likes, dislikes, strengths and weaknesses.
Remember: we're thinking Avengers here. You'll get the best results by leveraging your strengths and minimizing weaknesses.
Ready to embark on a joint marketing adventure? Here are a few ideas to get you started:
Exchange reviews. Quality, thoughtful reviews (that aren't all 5-stars or from members of your family) get your work noticed. Read your partner's work and leave a lengthy review on your website and other locations where their book is for sale. Remember, you get what you give — the more honest and thorough you are, the better!
Reward each other's fans. Host a special promotion for each other's fans! This could be anything from a discount/limited edition of your work to simply some sort of exclusive content (such as an unreleased chapter or short story). Use this as an excuse to encourage your fans to sign up to receive email updates from your partner and vice-versa. You could also coordinate for an exclusive giveaway or contest!
Get candid with a 2-part interview/Q&A session. Interviews where the parties know each other are always more fun! Have a chat with your partner on Skype, then post one part on your blog and the other on your partner's blog. This encourages your readers to check out both parts — and both authors!
Talk Back
What other ideas do you have to rock your new partnership? Have you successfully teamed up with an author? Have partnership tips for your fellow writers? Share your experience in the comments!