Self-Publishing Resources Directory
Just because it's called "self-publishing" doesn't mean you have to do everything yourself. From editing to design to book promotion, you can put together a team of wonderful people who are passionate about helping indie authors find success in self-publishing. To help you find the right members for your team, we've put together a self-publishing resources directory (which will keep growing as we get more people interested in being a part of it!).
Do you have someone to recommend for the directory? Fill out this quick form and we will contact them about joining!
6 Free Writing Outline Templates
For full descriptions of the below writing outlines, check out the original post 6 Free Writing Outline Templates (and 3 Reasons to Use Them)! All links below download the outline PDF file.
105 Author Blog Prompts/Ideas
So, you started your author blog. It was so *exciting* at the beginning! Rainbows and sunshine poured down on you and the posts flowed freely from your fingertips. You just knew this blogging thing was meant for you.
Fast-forward to a month later. You visit your blog and think, "has it really been *that* long since I've posted?" We understand — we've had our share of blogging lapses in 2+ years here at Duolit. How do we combat this? Ideas…lots and lots of ideas. Like ONE HUNDRED AND FIVE AUTHOR BLOG PROMPTS!
Author Website Checklist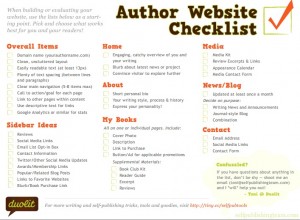 Stemming from the basics taught in Toni's post, 7 Lessons for Your Author Website, the Author Website Checklist is a downloadable PDF to give you ideas for creating (or improving) your website.
It covers each page of your website, plus overall tips and ideas for that ever-present sidebar. Download the checklist and evaluate your website today! Need help? Give Toni a shout!
Press Release Template
The following template originally appeared in Shannon's post 3 Places to Send A Press Release (And How to Write One).
Sadly, your creative writing experience is as relevant to press release writing as your experience watching Jersey Shore is to solving complex math problems. But the good news is, with some guidelines and tools it's not difficult to learn how to write a good press release.
To get you started, we've created a helpful Press Release Template (DOC file) you can download and use to craft the perfect release to announce the publication of your book, launch of your website, book signing appearance or any other event that should be shared with the media.
5-Minute Marketing Ideas Generator
Need a marketing boost? We hear you! With everything indie authors have going on, it's ridiculously easy to get burned out on marketing. That's where this super-handy generator comes in! Just click the 'Generate New Idea' button to display a fresh marketing idea that'll take you 5 minutes or less to complete. Twitter, Facebook, online, offline — we have ideas for every author (and mood)!
Character Generators
YA Character Generator: From Twilight to Catcher in the Rye, young adult (YA) fiction has been the most dominant genre for decades. We wanted to give you a jumping off point for starting your YA novel, so we developed this unique character generator tool. From gender and age to looks and personality (plus a special plot twist!), you'll have a great place to start your novel or short story.
Mystery/Thriller Character Generator: In the realm of commercial fiction, few genres surpass mystery in terms of sales. Some of the most successful, popular authors of the all time fall into this category.  We decided to give you a jump on the competition with our one-of-a-kind Mystery/Thriller Character Generator. From names and occupations to crimes and traits, our generator will give you all the basics needed to start your very own mystery novel or story!
Writing Quotes
Need a boost? Check out our collection of writing quotes. Alternately funny, inspiring, head-shaking or downright on the nose, there's a quotation for every mood. Give it a try!