For allowing us into your inbox every week, you deserve some awesome freebies to help further your career as an indie author. Check out what we've created below and keep an eye on your inbox — you never know when we'll add a new tool!
The Weekend Book Marketing Makeover
Download the Weekend Book Marketing Makeover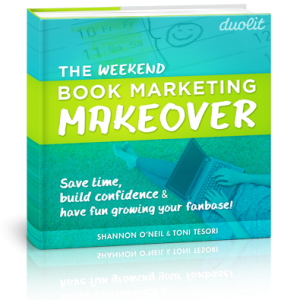 We asked you to tell us what book marketing tool we could create to help you and received a variety of responses (two of our favorites: an author scrapbook for cataloging your inspirations and a dating guide for authors), including:
"Something along the lines of a checklist/to-do list."
"The equivalent of 'Marketing for Dummies'."
"How to find a marketing strategy that's a good fit for me."
"I'm a big fan of step by step books and timeline books. So anything that would walk me, step-by-step through 90 days of publishing success would rock! Can you do it in 30?"
How about we do it in a single weekend?
We'll satisfy all those wishes with a (totally free, but very valuable) makeover guide that will get you excited about marketing your book, eliminate that sleazy feeling, and debunk the marketing myths that are holding you back.
We will reform your book marketing attitude and direction, helping you gain those all-important traits of motivation and focus…in just one weekend!
4-Piece Book Marketing Toolkit
No matter which book marketing ideas you pursue, always respect your reader! The growth of your crazy-dedicated fanbase depends on it
Don't know where to start? Grab a cup of coffee with us!
Bonus: More (Totally Free) Tools!
Talk Back
How have you used the tools we've provided? What's your biggest book marketing question? Let us know in the comments!