Not sure how to set up your website? Check out Have a Beautiful Author Website for Under $20/mo (Even if You're Not A Geek).
At the tender age of 14, I submitted my first website for a design review.
My masterpiece came together after only a few days spent tooling around in Geocities. I thought it was awesome — it featured a sharp black background, electric green content table, rockin' aLtErNaTe capitalization, and sweet graphics made in Paint Shop Pro. I even had a page where you could adopt a sunflower seed (the terrifying screenshot you see on the right).
The result? A total disaster.
I'll give the reviewer a bit of credit — she could tell that I was young and doing my best, but that made her review no less scathing!
According to her, my website was cluttered, hard to read and had little to interest any visitor. In fact, she said most would click away with a major headache!
I was crushed.
From that web design kick-in-the-face, however, I learned valuable lessons about what works in web design — lessons that are still true today.
The bottom line: my teen self produced a website that lacked purpose, effective design and relevant content. Visitors ran away screaming.
As a 14-year-old design n00b, fleeing visitors meant nothing but a learning experience. If *your* visitors skedaddle, however, readers and book sales vanish with them. And that? Sucks for both of you.
Don't blame yourself for your website's ills! You may not be a web geek, but you can fix each of the problems I'm about to share. Correct them today, and your visitors' headaches will be a thing of the past!
1. Geocities.com/SouthBeach/Sandbar/3445 is NOT professional.
If you kicked it with me during the Geocities era, the URL above will look familiar. While those long addresses are (thankfully) a thing of the past, even a subdomain (such as yourname.wordpress.com) dings you on the credibility-meter.
The fix is cheap and easy: register yourauthornamehere.com and use it to your advantage!
2. Readers want to know *you* as well as your work.
Luckily, 14-year-old me had the good sense to keep her photo and personal deets off that Geocities site. You, however, don't have that luxury!
Readers may like your work, but to earn a lifelong fan they must engage with you, care about you, and remember you. Showcase your personality throughout your website content, including an "About" page with some flair.
3. A page about your sunflower seed obsession is not necessary.
I loved sunflower seeds so much (thanks, Agent Mulder), I dedicated a page to them on my website. The reviewer had a field day with that one!
The lesson? You don't need a separate page for everything under the sun. Overflowing navigation overwhelms and confuses visitors! Consolidate all you can — 5-7 main pages should do the trick.
Try this exercise: write down all the pages you think your website needs. Then, cut out half!
4. Know your audience. Design for them!
Unbeknownst to me, my website's reviewer was a 30-year-old mom. Being a 14-year old teen, I designed my site for others like me.
Again, this wasn't a big deal at the time, as my website didn't need to appeal to moms. Whoever your target market, however, design your website's content, navigation, color scheme and layout for them. Just because you love gold and LOLcats doesn't mean they will!
5. Give your website a reason for existing.
To be quite honest, my Geocities site had no real purpose. I wasn't trying to convince anyone to do anything, I was just showcasing my personality.
Your site, on the other hand, has an extremely important purpose — to turn visitors into readers!
To do this, give each page on your website a job; that is, give your visitors something to do. For example:
Home page -> sign up for mailing list
About page -> follow me on Facebook and Twitter
Books page -> purchase My First Novel
Media page -> download media kit
Contact page -> fill out contact form
Giving each page a job serves another important purpose: preventing your visitors from running into a "dead end" and abandoning your site!
6. You are not an elusive secret agent.
Back in the day, I loved The X-Files and pretended I worked for the FBI. As such, I believed everyone was out to get me and included no contact info on my website.
Nowadays, visitors find nothing more frustrating than being unable figure out how to contact you.
As an author looking for readers, it's your job to be accessible! Remember: you want to engage on a personal level with those potential readers, to show them you're a human being. Make your email address, social media links and contact form prominent and easy to use.
7. No one wants to see content from two years ago.
That first website of mine sat, unchanged, for 2 years after I stopped updating it. *facepalm* It sounds harsh, but having outdated content on your website says to visitors, "I've given up on my career and my readers and have potentially fallen off the face of the Earth." 
This is especially evident on your site's blog. If your first post is from more than a month ago, you have three options:
write new posts (and set a new posting schedule you will stick to)
remove the dates (involves editing your website's template — holler if you need help)
remove your blog (may be as simple as editing your menu or involve more template editing)
Outside of your blog, check over your other content once a month to keep it fresh!
More Website Tips and Goodness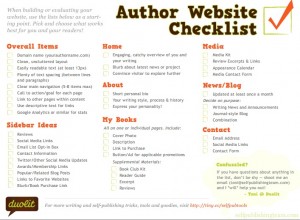 There you have it — the basics I learned from that scathing review of my first website. Could your website use even more love?
If you're a list-kinda-author (I'm right there with you), download my Author Website Checklist. It's a sweet PDF that will give you more deets on what this web designer thinks your website should include. Feel free to print it out or share it with your friends!
Website technical junk leave your head spinning? No fear! Just give us a shout and we'll help you make changes to a current website or create a new one from scratch. And, if you're an awesome Indie Ninja, you'll save 33% on those already affordable services!
Talk Back!
I hope that I've gotten a little better at this whole website thing in the past 13 years! If you have a spare moment, won't you boost my ego by leaving a comment? I'd also like to hear what you think about your own website: what do you like about it? Is there anything you'd like to change?