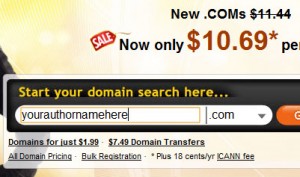 There are over 88 million registered domains. And that's just .com names.
Over 90,000 new ones are registered every day.
If you're looking to have a long-term internet presence as an author, claim yours. If you haven't — do it now.
The process can seem intimidating, but a lot of that is due to the fact that domain registration companies (like GoDaddy) don't make a ton of money on domain registrations. Therefore, they try to sell you a bunch of stuff that you may or may not (usually may not) need during the checkout process. Keep your "eyes on the prize" (the "prize" being purchasing your chosen domain name), and the registration process is straightforward.
Why Register A Domain Name?
Isn't yourauthornamehere.blogspot.com enough? If you love your Blogger or WordPress.com blog, stick with it!
Just because you register a domain name doesn't mean that you have to go out and spend money on separate web hosting. Don't get me wrong, a professionally hosted (and designed) website is definitely going to give your branding efforts a boost. If you're happy where you are, though, purchase the domain but have it set to forward to your current site (more on this in Part Two). Easy-peasy!
What you're doing is future-proofing your author brand for its eventual success. If you're Stephenie Meyer, you don't want to wait until Twilight's a hit to try and register a domain name. Remember the 90,000 that are registered every day? If you wait, it'll be gone. And at about $8/year, it's easily affordable.
Choosing a Domain Name
The first part of the process is choosing a name. In most cases, it's best to register your pen name as a dot-com. For instance, if your pen name is Dana Scully, register danascully.com.
If your name/pen name is relatively uncommon, this is a no brainer! If your name is Jane Smith, however, you might run into a problem.
A Word About .com
Yeah, there a ton of domain name extension options. Dot-com, however, remains the favorite by far. There are over 7x as many .com domain names registered as its closest second, .net. For better or worse, it's the extension most internet users think of when surfing. So, if you want your domain name to be as user-friendly as possible, try for a .com.
What to do When Your Domain Name is Taken
Seeing that red X appear after entering your desired domain name can make your stomach drop. If your desired doman name unavailable, however, you do have a few options:
Try for .net: Change that .com to a .net and see if that name is available (this is what Shannon had to do when registering her domain name). It's the second most popular extension behind .com and has about 7x more names still available.
Wait it out: If you visit the URL and see a "coming soon" page or it doesn't come up at all, it's possible the domain may be about to expire. Run a WHOIS search on the domain name and see when it expires – if it's soon and the registree doesn't renew you may be able to snatch it up. Unfortuantely, this rarely works as "domain squatters" can hang on to domains for years without ever developing them.
Buy it at auction or using "Domain Buy:" This is another tricky process, and rarely worth it for indie authors. It costs over $100 (at the very least) and doesn't even guarantee that you'll be able to afford the domain at its appraised price.
Add a middle initial: Sounds simple, but sometimes sticking that extra letter in the domain name can make all the difference. If you do this, however, make sure you print your name on all of your books like this as well — your readers will have an easier time remembering and connecting you and your domain name. Plus, it's just consistent branding.
Use a tagline or username: If you're well-known around Facebook as the Queen of Thrillers, check into queenofthrillers.com. If your Twitter followers know you as @shanwrites, maybe shanwrites.com is available.
The Registration Process
Tomorrow, in part two of this post, I'll walk you through the domain registration process step-by-step. We'll discuss what each step means to you and how to avoid the costly mistakes made by beginners to the registration process. If you're interested and think you may forget to check back, subscribe to our RSS feed or receive posts via e-mail!
Not a Domain Registration Newbie?
If you've been through the registration process already, what advice do you have to other authors? Share your experiences in the comments!