How much time are you wasting with Twitter?
I don't mean that Twitter in and of itself is a waste, but if you think about how much time you spend tracking down things to share, writing tweets, shortening links, and scheduling or posting your tweets — how many hours are we talking about per week?
It gets frustrating, fast.
If you're trying to tweet four or five times a day, that's a lot of time spent tracking and setting tweets that you could spend writing, working on your book marketing, or watching Justified.
But all that is about to change because I'm going to introduce you to Buffer.

First off, full disclosure here, I have absolutely no affiliation with Buffer whatsoever. I don't get any kickbacks from them (the primary service is free anyway) for signing people up.
I just use it, love it, and feel compelled to tell the world about it because it's changed my whole outlook on Twitter.
So, if you're like me, this was previously your process for creating tweets:
Scour the internet specfically looking for an interesting article or post to share
Open another browsing tab to copy the link to a service like bit.ly or ow.ly to shorten it
Open another tab for Twitter or Hootsuite and paste the shortened link
Write the tweet, post it in Twitter at that moment OR take the time to schedule it on HootSuite
Rinse and repeat to create four or five tweets a day to share
With Buffer, this is what that process can look like instead:
See a post you like while you're browsing the web

Click a button in your browser and the post link is instantly shortened into a tweet
Add your thoughts, click another button and your tweet is "automagically" scheduled
That's. It.
Seriously, it's that easy!
Here, in a nutshell, are the 7 ways Buffer will change your life:
1. Works with your web browser
After you sign-up for Buffer with your Twitter, Facebook or LinkedIn account, you can install a Buffer plug-in to your browser (they have them for Chrome, Safari, and Firefox — if you're using Internet Explorer, get with the times and upgrade) so when you come across something great to share, you just have to click the button to generate your tweet (no additional tabs or pages needed!
2. Schedules your tweets at random intervals
Once you create a list of tweets (you can schedule up to ten at a time with the free account or get unlimited tweets with the $10/mo. "Go Awesome" plan) Buffer "automagically" (their awesome word) schedules them for peak times.
This is better than HootSuite's scheduling because the times are always off (not on the hour or half-hour where it looks like a scheduled post) plus they take into account user data to choose optimum times for your tweets to go out.
3. Automatically shortens your links
When you click the Buffer button in your browser, it instantly shortens the link you're looking at and adds it to your tweet.
I know this is a quintessential first world problem, but copy and pasting a link into another tab for bit.ly and then copying the new shortened link and opening another tab for Twitter is time-consuming.
Buffer cuts out all those steps. With one click, a window pops up with your shortened link already pasted in the tweet. Done and done.
4. You can set 2 days' worth of tweets in about 5 minutes
If you tweet five times a day, Buffer's free option will give you space to add two days' worth of tweets at a time and literally takes a matter of minutes.
Here's the easiest way to do it — go on Twitter, add three or four retweets to your Buffer stream, then go about your daily blog reads, add a few of those with your handy built-in Buffer browser button, and then jump on bufferapp.com to type up a couple of statuses or mentions.
Once you've got ten tweets, hit the "Random" button and your messages will be shuffled into a random order — tada! Two days' worth of quality tweets are set to go, just like that.
5. Highlight text for a quoted tweet
If you're reading a great blog post or article and see a quote you'd like to tweet with a link to the post, just highlight it before you hit the Buffer button and the text will automatically be added to your tweet with the shortened link.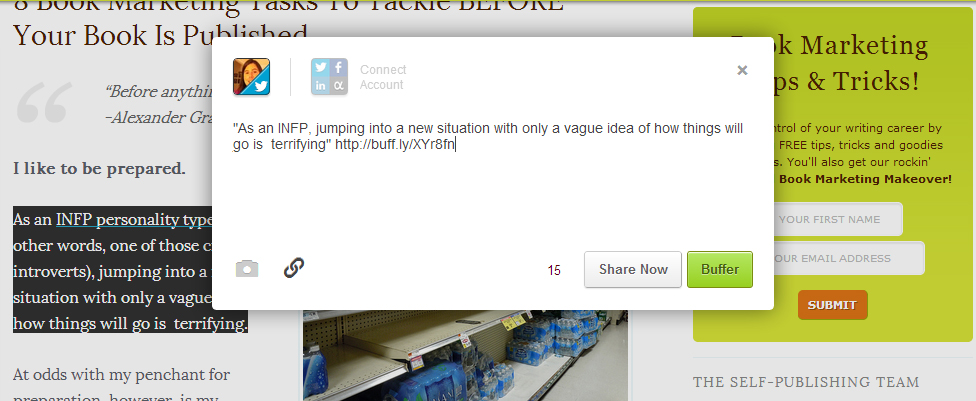 I'm telling you, if Buffer made things any easier, it would just be taking tweet ideas straight from your head.
6. Tracks your stats
Similar to Hootsuite, Buffer tracks your retweets, mentions, and link clicks for every tweet you send.
I've noticed a big increase in my Twitter activity thanks to Buffer schedule my tweets at peak times and the stats have helped me figure out what content my fans enjoy.
7. Buffer has smartphone apps too.
Always on the go? Buffer has easy-to-use apps for the iPhone and Android devices.
You can manage your tweet list, check your analytics, and add new tweets — plus it works in conjunction with a lot of other apps to easily cross-share links you come across.
It's all downhill from Buffer
After you get your tweets scheduled, you'll still have to pop into Twitter to respond to mentions and such, but it's much easier to do that as needed than to jump in there every day to post regular updates.
Plus you can still share things in the moment when it strikes — either through Buffer (it has a "share now" option) or your regular Twitter program.
Bonus: Buffer isn't just for Twitter
You can use it to schedule posts on Facebook, LinkedIn and LinkedIn groups, too!
I suspect the team at Buffer will be adding more social media networks soon, but just managing Twitter and Facebook with this handy app is enough for me to be a true believer.
So if you're not using it already, check it out — I promise once you start with it you'll be totally hooked just for the time savings alone!