We gladly welcome back our friend Adrienne from Design Roast (who previously showed us how to promote our work on Tumblr) back to the blog!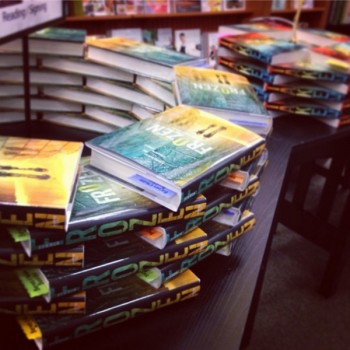 One of the fundamental rules writers strive to follow is "show, don't tell."
While this is meant to prevent clunky exposition (or the dreaded exposition monologue), it's also a great piece of advice for the modern writer on social media. Although it might seem more natural for authors to flock to word-based sites like Twitter to promote their work or build their fan base, an image-based site like Instagram can also serve as a great promotional and relational tool for writers.
Here are six ways writers can harness the power of Instagram to build their audience:
Find a Brand New Audience
Each social media platform attracts a unique audience. While there will always be some crossover (from Twitter users to Facebook users, and Facebook users to Instagram users), the fact remains each site meets a different need and will therefore have a different user base.
While Twitter might help you connect with fans (and future-fans) who respond to word play and witticisms, Instagram can help you connect to the part of the population that learns and bonds through visuals. By building relationships on Instagram with your visual content, you open the door for a brand new audience to discover your written works thanks to a visual connection.
Use the Hashtag
Just because Instagram is image-based doesn't mean words aren't important. If you fail to properly tag your photos, the chances of them reaching those not already following you are pretty slim.
The key is to find the sweet spot. Images directly relating to your writing need to be properly tagged to enable people to identify and follow your work. Tapping into popular hashtags for personal pictures can help you widen your audience. However, over-tagging your work can be obnoxious and off-putting. Limit the amount of tags you use per photo, but make sure the tags you do use are relevant and build connections to other images and users.
Build a More Intimate Relationship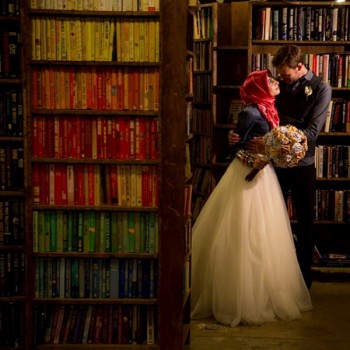 Actors, musicians, authors, chefs, and more succeed in broadening their audience and market through Instagram when they broaden their content to include the personal as well as the professional. While posting pictures of your new book jacket or a stylized screen grab of your new e-book helps to spread awareness of your professional endeavors, it's the personal moments that will win fans and build brand loyalty.
"Intimate" is what you make of it. You don't have to air all your personal affairs on social media, but vacation pictures, views from your back porch, and (the ever popular) pictures of beloved pets all allow readers and followers a personal glimpse. You can even combine the personal and professional by posting pictures that give insight into your writing process. Take a shot at the café where you do most of your brainstorming, upload a photo of a book stack that represents your latest research, or snap a picture of your writing desk (clutter and all), where the magic happens!
When followers feel like they know you, they become more invested in supporting you. You're not just the stranger from the About the Author page anymore, you're a friend.
Share Your Inspiration
One of the most popular functions of image heavy sites like Instagram, Pinterest, or Tumblr is the sharing of inspiration. Pictures are worth a thousand words, after all, and a single picture can inspire thousands of ideas.
Sharing your inspiration offers another way to create interest in your work without bringing out the marketing bullhorn. Upload shots of the buildings and landscapes that inspired settings within your novel. Lay the art print that sparked your imagination next to a blank pad for a visual teaser for an upcoming work.
If the picture you snap doesn't seem to translate that feeling of inspiration, try one of the countless apps designed to help edit and enhance your photos, or apply a little photographic finesse to your shot. You don't have to take the perfect picture to end up with the right results, but there are easy ways to get in more of an artist's mindset.
Encourage Interaction
If you only upload but never interact, you won't succeed in connecting with your audience. Don't focus so much on creating the media that you neglect the social aspect of social media.
Don't just collect followers, follow others. Ask questions, comment on pictures and respond to comments and questions left on your own images. Encourage followers to come up with captions for goofy pictures, or come up with a game to play.
You can even connect the games to your writing as a fun, free and interactive method for promoting your latest book. Post a handwritten list of inspirational words and invite others to upload pictures for an Instagram scavenger hunt. Upload a picture of yourself (and a friend or two) posing as a scene from your book; challenge others to come up with recreations of their favorite scenes. This could be just for fun between you and your most devoted fans, or you can turn it into a full-fledged Instagram contest.
Invite Collaboration
Struggling writer, meet struggling artist. You aren't the only one seeking a wider audience, so why not partner up with someone from a different medium? Team up with an artist (or artists) to collaborate on cover art or other media related to your works. They can get exposure for their talents with your fan base, and in turn, their fans might become curious about the inspiration behind their new work.
Encourage your fans to get involved. Hold a contest for cover art and let your fans pick the winning design. Welcome prompts for six word or three sentence stories. Write your response to these prompts on sidewalks, napkins or whiteboards and Instagram the finished product. The sky is really the limit when it comes to what you can do with an Instagram contest, and they're great for building up your audience on Instagram.
Instagram is a great platform for authors seeking to build more intimate, interactive relationships with both established fans and new followers. There's no set equation, no perfect formula for the amount (or type) of pictures that will yield x% growth in audience. Instead of focusing on numbers, focus on flexing different creative muscles and investing in relationships. The more opportunities you give others to know the author behind the book, the more opportunities you have to gain a unique new audience.
Learn from your efforts and the response you get, and if you find something that works, keep doing it. You can also find inspiration by following other writers on Instagram.
Talk Back
Are you on Instagram? What aspects of this social network have stood out to you as a surprise or hard to get used to? What advice do you have for fellow authors? Share in the comments below, along with your Instagram handle if you'd like – we'd love to see what you're doing with this unique social network.
Adrienne is a freelance writer and social marketer who loves analyzing social media campaigns to see what works. To see more of her work, check out her blog about design.