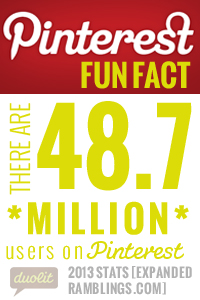 Hello, my name is Shannon…
Hello Shannon!
…and I am a Pinterest addict.
I see we've got a crowded meeting tonight — it's lovely to meet everyone.
If you're like me, large chunks of you day just disappear every time you log-in to Pinterest, right?
It's okay — admitting you have a problem is the first step to recovery.
The second step is figuring out how to turn a time-wasting activity into a time-saving activity.
Yesterday, I gave you some tips for turning your Pinterest obsession into a fun writing exercise.
(You'll want to go read that post if you haven't already, or else our exercise today will be very confusing!)
Now it's time to kick it up and notch and tell you how your new character and scene Pinterest boards can become time-saving, cost-effective, and (most importantly) FUN book promotion tools.
A quick note: Private vs. Public Pinterest Boards
One of Pinterest's newest features is the ability to create private or "secret" boards  — which means your pins will stay hidden from your public feed and any pin searches on the site.
Every user is allowed three secret boards, which is where I started my character research. Since I was still in the writing process, I didn't want to share too much too soon (Plus we know things can change without warning during those early stages!).
But now that I'm building toward my book launch, I'm turning my boards public one at a time to start building the excitement.
It's up to you to decide if you want to keep your boards a secret during the writing process, just remember that once you've made a board public, you can't switch it back to private (because all the pins are already out there in the great Pinterest universe).
Creating a pin-frenzy!
Once your boards are open to the public, put them to work entertaining your current fans and attracting new ones with one (or two, or ALL) of these promotional ideas:
1. Add your Pinterest boards a your weekly list of tweets.
I know by now you're using Buffer, right?
Well, when you're adding links and tweets to your Buffer stream each week, make sure you work in a few links to your new character or scene boards. You can highlight a specific pin or share a link to the whole board.
You'll boost your Pinterest following, give your Twitter followers some fun, new content, and maybe prompt a conversation with fans about what you should add to the boards.
2. Use WooBox to add your board(s) to Facebook.
WooBox is an essential in every Facebook tool kit (it's #2 our 30 Ways to Build Your Fanbase on Facebook).
Among the many awesome (free!) features WooBox offers is an easy tool for adding your Pinterest boards to Facebook. With one click, fans can browse and like your pins (from a specific board or all of your boards) without ever leaving your Facebook fan page.
Once you add the new tab, make sure you share it with your Facebook fans and encourage them to follow your boards on Pinterest, too!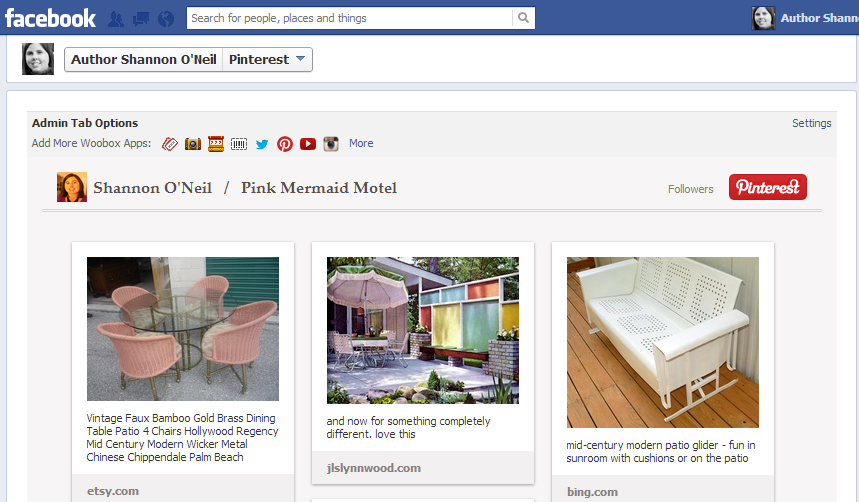 3. Blog about an interesting pin.
You put a lot of thought into what pins would represent your characters/scenes and why, right?
Share your thought process with fans in a blog post! Tell them why something reminded you of your character or why a particular scene has so much significance.
For example, if you've got a character who loves 80's hairbands, share a list of your character's 10 all-time favorite albums (you can even write it from the character's perspective).
Be sure to shorten the link to your post and add it to the description of your pin so fans who find you on Pinterest can follow the link an read more about the pin's origins!
4. Hold a fan contest for new pins.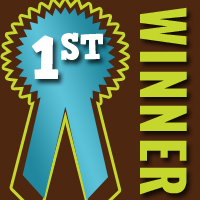 Get your fans involved in the fun! Ask them to submit some ideas for new pins they think would represent your characters or scenes.
Add the top five suggestions to your pin boards (with credit to the winners) and add some incentive with a prize for first place (or first through third if you're feeling really generous).
This is so much fun for fans, but even more fun for you because you'll get to see your characters from your readers' perspectives — you might even learn some new things about them!
5. Share your boards with your mailing list.
Introduce your characters to the fans on your mailing list with a quick email.
Give them some insight into what really makes your character into a real person we might bump into on the street. Share a few of the pins you created and give fans a link to check out the full board on Pinterest.
Remember, it's *your* job to get readers SO excited they just have to click on a link in your email. So leave them hanging or give them just enough of a taste to want more!
Do you see what you just accomplished?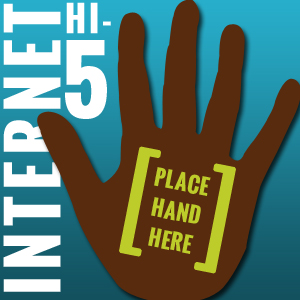 You took a couple of character and scene boards you spent a little bit of (fun) time creating and turned them into content for your newsletter, blog, Twitter, and Facebook PLUS an awesome contest your fans will love.
It's a win-win-win-win-win!
*High-five!*
We've successfully converted our Pinterest obsession into a productive task that helps our writing process AND our book promotion.
Now with all that time we saved, I've got some extra hours to spend on BuzzFeed and Tumblr!
(Uh oh….)