Duolit's note: Like Cara dished last week, surprises abound when travelling the self-pub road. While we know that everyone's experience will differ, Yasmin Selena Butt (a rockin' friend to Duolit) offered to dish the dirt on the potholes she encountered while publishing her debut, Gunshot Glitter. Nothing like being forewarned, right?
As Yasmin told us, "if I was going to pass on anything, this is what I'd whisper in your ear…"
1) Formatting an eBook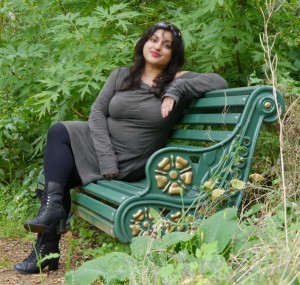 Do not think of your eBook as a paperback!
I spent countless hours re-formatting the text – only to find, when I formatted for Amazon Kindle, it was better to wipe it all. Why? Because it is easier and safer to format a 'clean' document, than one that's potentially embedded with a load of hidden or inappropriate formatting.
However, do refer to your master version (or a print copy) so you know where all your appropriate formatting should be added back in. Here's how to do it:
Open your novel.
Hit 'Select All' (or the equivalent, if not in MSWord) and 'Copy'
Open Notepad (or your equivalent) and 'Paste'
You will see your novel stripped down to just basic text. Don't panic — this is perfect, trust me. 'Select all' and 'Copy' again.
Open a new document in MSWord (or your equivalent) and 'Paste'.
Save it under a NEW filename. Remember, your Master is SAFE – you have it as back up.
Now you have a brand new, unformatted completely clean version of your novel. Hurrah!
Let the real formatting fun begin.  Note: if you are publishing direct to the Amazon Kindle Store, you can also upload your final copy as a .doc file. It really can be that simple.
For more formatting advice, visit Jo Harris's website and the Smashwords style guide.
Table of Contents
Jo's devised a great video for creating a clickable Table of Contents. Note: name your Table of Content's bookmark 'TOC' and nothing else, otherwise it won't work.
When I published Gunshot Glitter, I was most dismayed to find the Table of Contents was shaded out on my Kindle. Turned out naming the bookmark "Table_Of_Contents" had scuppered it! Simple error, swiftly resolved — phew.
2) US Tax Laws
If you are a non-US citizen publishing eBooks, you will be taxed twice over: once by the US and then again by your home country — unless you submit a form to your sale vendors called an W8-BEN, completed with an EIN code.
A what with a what?!
Luckily, this one isn't too difficult. Before, you had to go through time-consuming, potentially expensive, stressful processes to avoid being taxed. Now,all you need to do is:
Call the IRS in Philadelphia on +1 267 941 1099. I used Skype to save cash. Press '2' at the menu electing to be dealt with as a foreign entity.
Tell them you are a self-published writer. They will ask you if you've completed Form SS-4. Tell them you haven't, and ask if they can complete it over the phone. When they ask if it's for 'compliance from withholding' and if it's for eBooks, say 'yes' to both.
They will give you an EIN code for you to note down, and also post you a copy in writing.
Download the W8-BEN form here. There are fantastic guidance notes on Catherine Ryan Howard's blog to help you.
Follow them to the letter, otherwise your request could be thrown out.
Send a copy off to Amazon and to each vendor you sell your eBooks through (Smashwords, Bookbaby etc). To be safe, double-check each site for their most up-to-date postal address.
You will now receive all your US revenue untaxed; the form takes about a month to process.
3) Providing your bank details to Amazon
Do you know your IBAC Code? I wouldn't have known my IBAC code if it came and sat on my lap!
IBAC is the international bank account number for your domestic bank account. Amazon needs it to pay your royalties. All UK banks have them, and I am sure other national banks do too. Your bank statement will probably feature it (like mine did). If you are unsure of yours, call your bank.
Unfortunately, Amazon.com only pays by cheque to non-US based writers, and only when you accrue $100 in royalties. Also, expect your bank to charge you for processing that blessed cheque.
4) Amazon KDP Cover Preview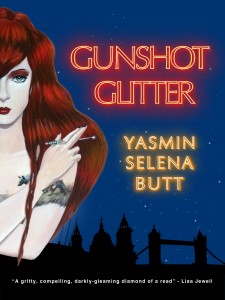 Warning: when you first upload your beautiful book cover onto Amazon and view it as a thumbnail – it may look like awful; bent and crooked. I wanted to weep when I saw Gunshot Glitter for the first time!
I'd worked with US artist, Celene Petrulak to create the perfect cover (no one on God's earth was going to slag off my book for having a crap cover!) and I was looking at this tiny mess. After freaking out, considering changing the fonts and all sorts, I emailed Amazon KDP and expressed my concern.
They told me that it looked fine and sometimes the preview facility just displayed it like that. SO WHY DON'T YOU SAY THAT ON THE PREVIEW INSTEAD OF SENDING FIRST-TIME WRITERS INTO MELTDOWN?!
Because the truth is, it was fine. Gunshot Glitter, when published, looked utterly lovely and sanity was restored. But, until I saw it with my own eyes, I wasn't 100% sure it would be. Be prepared to take a little leap of faith, my friend.
5) Launch Support
So your launch day comes and you're excited, excited, excited!!
You are hopeful that your friends, family, author mates, network of peers will spread the word that the beautiful novel that you've written, edited, proofed, wept over, stayed up all night until the birds began tweeting, abandoned and picked up again, made untold sacrifices for is finally — FINALLY going to see light of day!
This is HUGE for you; you've got a lot of hope wrapped up in it. And the good news is, if you've laid your groundwork, when people learn it's coming out, you will get a whole heap of support. I sincerely wish that for you.
Dealing with "Takers"
But…don't be surprised if your request for support gets ignored by some folks. Some are simply too selfish, self-absorbed, snobby, have too much going on, don't appreciate the magnitude, or just take (this gets my ire, people who just take) to care that this is potentially the most important day of your creative life.
I was shocked at the behaviour of some authors who I've met, regarded as peers, RT'd their tweets, shared their wall-posts when their novels have come out – who, when I contacted, knew I'd been writing a novel, completely ignored my news and request for support. That was sobering. It's uncool and it's a learning curve and yep, completely their right.
So focus on the good souls, the ones who give back. Always say "thank you" and be grateful to those who've shown you support. When fellow authors help you, try and graciously reciprocate. We are all part of the same writing community; however we are published, whatever we write, so play nice.
6) Literary Fascism
As a self-published writer, you are going to encounter discrimination and closed doors from some reviewers in their submission acceptance policies.
In my humble opinion it is literary fascism, as there are easy ways to twig who is submitting rubbish and who is submitting a novel indistinguishable from a traditional publisher's…but, it's their site and you need to respect that.
Focus on building up a word-of-mouth buzz, approaching more broad-minded reviewers, mainstream media, and fostering contacts. Always stick to reviewer submission guidelines. Email them using their first name; do your homework.
Prove every snarky critic wrong about self-published authors and our professionalism.
7) Twitter
Avoid the hard-sell at all costs.
I have learned from other people's mistakes on this score! I've watched hard-sell tweets appear over and over again in my feed. They're boring, tedious and akin to being pursued down the road by a pushy salesman. Would you buy from one? I wouldn't.
Twitter is a great tool for establishing a virtual rapport. As a writer, I focus on tweeting at people who grab my personal interest and  might be my reader demographic.
These are the people, if your book is of interest, who may buy your book. And that is how it should be. Notice that I say 'if' — you should never emotionally blackmail anyone into buying your book.
If you get talking about your novel, brilliant, let them know where they can read a free sample or buy it. But, get to know them and their lives, too. Give back, don't just take. Life should be a two-way tweet!
You Can't Please Everyone
Your novel will not be to everyone's taste, but that's okay.
Gunshot Glitter is a very unusual, genre-bending contemporary crime novel; it's sexy, dramatic, mysterious and about redemption. It's had a brilliant response from people who have read it so far, but that's partly because they looked at the sample, loved what they read and wanted to know what happened next.
That is the perfect reader. They're happy, you're happy.
A great reader will spread the word, and they won't be disappointed because they brought into a book that didn't deliver. So, don't panic yourself into using the hard-sell.
Be in it for the long haul. Be an interesting tweeter.
The Self-Publishing Community
The self-publishing community is becoming more sophisticated, regardless of what detractors say about us. I am so grateful for the advice I've found in blogs by Roz Morris, Duolit, Wise Ink, Catherine RyanHoward and Joel Friedlander — I recommend them to you, too.
So the very best of luck with your writing, and remember to share your knowledge with newbies treading the same path. For, when you hit the publish button, lo and behold — you've done it!
You've joined the ranks of rare, but tremendous achievers, who actually finished their book and worked hard to cultivate the expertise to see it through.
Trust me, it's special.
—–
Gunshot Glitter by Yasmin Selena Butt is available worldwide on Amazon UK and Amazon.com. Follow her on Twitter at @YasminSelena and visit her website to find out more!