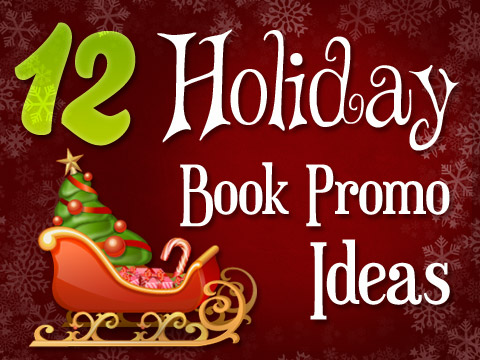 The holiday season is upon us.
It's only Halloween, but you and I both know that holiday displays are going up in stores as I type this.
Scratch that. I was just at Walmart, and half the store is already decorated!
While this time of year is crazypants for you (what the heck am I going to get Dad this year?), it's also the busiest shopping season for your readers — and that makes it the perfect opportunity for a fun promotion.
And, when you start planning your special holiday promotions now, you  build up excitement before everyone else (except Walmart) begins their own jolly campaign.
While you could go with the old standbys of discounts and personalized copies, they're…well, somewhat predictable. You know your Duolit gals — we like to have a bit more fun!
So, check out these 12 other holiday book promotion ideas (prettily tied up in a bow):
1. Package Deal
Buyers loooove packages. Less shopping, more gifts, right? Create fun packages including your paperback, such as:
Discounts for buying multiple copies (2 for $15, 4 for $20)
Bundling multiple books together (2-for-1, 3-for-2)
Buy one, share one (one book for you, one for a friend!)
2. Post 12 Days of "Your Book"
This can be a blog series or a great theme for a guest posting spree! Celebrate the 12 Days of [Your Book] by showcasing gift ideas, recipes, flash fiction, or playlists centered around your book and its characters.
3. Create an Indie Authors Bundle
Time to grab those indie author friends and gather your books into a package — at an unbeatable price.
You'll gain exposure to completely new fanbases, and give everyone's readers lots of ideas for holiday gifts. Be sure to include a 'gift guide', so readers know exactly who on their shopping list would love each book!
4. Share Gift Basket Ideas
Make your book the featured item in a gift basket! Post creative suggestions on your website, so all your readers have to do is purchase your book and create the basket! Ideas include:
Cozy Reader: hot chocolate/coffee/tea, a mug and a blanket.
Rockin' Out: albums or playlists to accompany your book.
Yummy in My Tummy: A character's favorite recipe and all the ingredients to make it.
Book Fair: Your book along with others by your favorite authors.
5. Host a Recipe Contest
Everyone has a special family recipe they'd love to share! Get your readers into the holiday spirit by creating your own fanbase cookbook! Let each reader submit a recipe, then give away digital copies to celebrate the season.
6. Donate Proceeds to Charity
Give back during the holidays by donating a week of your book's profits to charity. If you choose a smaller/local charity, be sure to let them know of your plans — they'll want to let their donors/fans know of your good deed!
7. Write a Holiday Story
Borrow characters from your novel and craft a short story centered around the holidays. Sell it as an eBook or give it away as a "Holiday Card" to your fans!
8. Partner with Local Stores
The holidays are the perfect time of year to get offline and pound the pavement. While you're doing your own shopping, ask local stores to consign copies of your book, featuring you as a local author (what a great gift idea, right?). Bonus points if they'll host you for a signing!
Side note: Shannon's book is being featured at a local mall kiosk starting this weekend, and she'll be blogging about the experience on her website!
9. Decorate Your Emails
Y'all know how wild I am about keeping in touch with your fans via email! Don't slack on this during the holidays — share your feelings about your holiday experience (loving them? feeling stressed?) and ask a question at the end of every email, such as:
What gift do you think [character name] would love to receive for Christmas?
Which menorah would suit [family name] the best?
Which holiday song is your favorite? [Character name] looooves "White Christmas," but I rock out to "Little Saint Nick."
If you use a graphical template, check out your mailing list provider's
holiday-themed options
. Now that's really decking the halls!
10. Offer Free Wrapping
This one depends on your 'gift wrap' skill level (read: this would not work for me), but offer free gift wrapping for books you sell from your website. Pick out (or create) cool gift wrap that goes with the "theme" of your book — and don't forget a gift tag, too!
Note: Make sure this is an option, since some peeps like to wrap their own gifts  😉
11. Give the Gift of Books
Prefer a simple promotion? Host a giveaway for Amazon or bookstore gift cards — everyone could use more books this time of year!
12. Close Up Shop
This flies in the face of reason, but, let's face it, everybody needs a break. If you feel overwhelmed during the holidays, take some time off: announce that you'll stop accepting sales from your website as of [a particular date].
If you go this route, close with a bang (plan one awesome promotion) and use the time wisely (reflect on what you've learned this year).
Talk Back
What promotions are you planning for the holiday season? Do you want to give one of the above a try? Would you rather ignore the whole thing? Let's brainstorm (and share) in the comments!