Ever done a 180° on a subject so fast you got whiplash?
That's kind of what happened to me this past week.
In case you're new to the site, or haven't visited in awhile, last week, we went through a bit of a redesign.
Ready for the true confession?
Wait…aren't I the one touting custom web design, shouting from the rooftops about its amazingness and ability to set you apart from other authors?
This isn't Invasion of the Body Snatchers — I promise, I'm still the same geek.
But, the discussion we've been having on the costs of self-publishing got me thinking: with all the costs authors endure to get their work out there, is a custom web design, costing at least $350, really one of the neccesary ones?
Two weeks ago, I'd have said yes. After last week, I say not in the slightest.
What happened last week? I found the amazing WordPress themes available from the peeps over at StudioPress. After how quickly we got this new look up and running, I was prepared to tell you to run over there and get one of your own, stat.
But, there's still quite a bit of technical knowledge involved in setting up a WordPress website to run those themes yourself.
"Wait, I'm Not The Geek!"
I get it: you want a fancy website, but the thought of the setup — with a domain and hosting and the whole nine yards — makes your palms sweaty. You're not geeky like that Toni gal!
What if I said you could have a gorgeous author website (with one of those fancypants templates) for under $20/month? And that you could set it up without getting any of that messy geek on your hands?
A new service (with a ton of buzz) is perfectly equipped to handle this. They offer a perfect medium between free services (that look like it) and full-fledged custom website design.
OutstandingSETUP, To The Rescue!
For less than a night out at the movies, the folks over at OutstandingSETUP will hook you up with a domain name, hosting, email addresses and a beautiful WordPress website skinned with your choice of over 100 gorgeous themes.
How to Build Your Gorgeous Website
1. Register with OutstandingSETUP
These guys are pretty darn cool. Sign up, tell them what domain name you'd like (or they'll help you choose one) and they do the rest. Once they have all of the details, you'll get the keys to your website in as little as 12 hours! Amazing, huh?
Why OSetup Rocks
With most hosts, after you register and hand over your money, they check out. Want to set up email, WordPress, a theme? You're on your own.
OutstandingSETUP, on the other hand, is all about support. Their service is built speficially for WordPress/website newbies who don't have (or desire) the technical expertise to take it from there.
You'll end up with a functional WordPress site, lickedly-split, including:
Unlimited Support
Custom Domain
Premium Theme
Ten Email Addresses
Unlimited Storage
2. Choose a theme
Now that you've signed up, it's time to pick the look and feel. In other words, check out some themes!
The theme you're looking at right now is called Balance from fab themers at Studiopress. We've just modified with all of our Duolit prettyness in place.
Here's the thing: we paid $79 for it, but you have access to it (and over 100 others) totally free when you host with OutstandingSETUP!
When you're picking a theme consider:
The available colors — will it evoke the mood you want?
Photos — do you have photos or images to fill any spots in the design?
Background — do you like the default one included with the theme or, if not, can you substitute it with one of your own?
To give you an idea of all of the gorgeousness available, check out some of my favorites below. I also noted the genres I think they'd work well for:
Fabric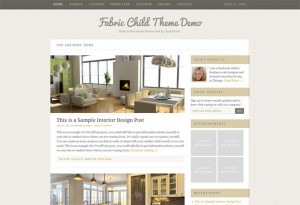 Fabric would be great for a romance, historical fiction or YA author. It's light and breezy, but very sophisticated. The use of images is huge in this one! Check out free stock photo sites like sxc.hu or Flickr's Creative Commons for images to use on your posts.
Midnight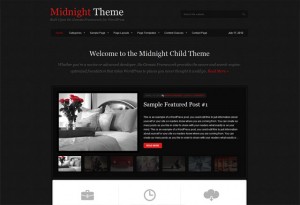 Black and white and red all over — the moody Midnight theme would be perfect for spooky paranormal romance, science fiction or thriller authors!
Minimum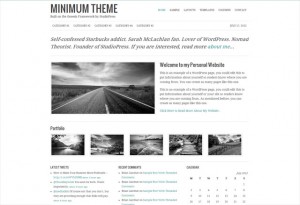 Clean and simple, Minimum works for any genre where you want the focus to be on your words. I especially like the large tagline at the top — it would be a great place for a quote from your book!
For a full list of the (over 100) themes OutstandingSETUP will install for you, check out their gallery.
3. Customize & add content
Now that you've got a rockin' website and gorgeous theme, it's time for the most important part: your content!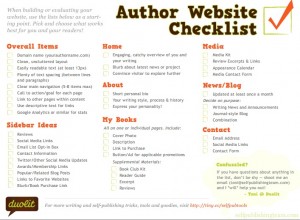 I've presented my website must-haves in a previous post, but here's an overview of my author website essentials (click the image to the right to download the Author Website Checklist PDF):
About page with short personal bio and background on your writing history.
My Books with photo, description, excerpt and links to purchase each of your books.
Media page for your media kit, review excerpts, appearances, and links to articles about you.
Contact page with an easy-to-use form and your other contact information.
After you've got your pages in place, add some blog posts (if you'll be using the blogging features of WordPress). If you're moving from a service like Blogger or WordPress.com, you can also import your old posts into your new blog.
Once all of your content is added, hook up any sidebar widgets you'd like (like a mailing list signup, one of the essentials).
Also, check out your theme's options (in the WordPress admin area under Appearance and/or Genesis > Theme Settings). Some themes allow you to change the color scheme, background or upload your own logo/header image!
Ready to sign up and get started?
Phew, that turned into a rather lengthy diatribe! Seriously, though, if you consider yourself a tech novice but want a spiffy website, go with OutstandingSETUP. Head over to their website for full details and to sign up!
Full disclosure: We get a small kickback when you use the links in this post to sign up. This is the first time we've ever found a product worthy of our affiliate-ness, but we'd recommend OutstandingSetup even if we got nothing out of it! If you don't want us to see a dime, register through this link instead.
I'm still a geek!
Here's my official geek web designer disclaimer: although my thinking has changed a bit, I still think custom design is a worthwhile investment (even if you're simply modifying the look and feel of a theme, like we've done here).
But, to be honest, I'd rather see our indie friends rock  gorgeous sites, even if we're not involved! Services like OutstandingSETUP allow you to do just that.
Note: If you already have your own WordPress, domain name and hosting, consider purchasing a premium theme directly from Studiopress (also affilate link, click here to unaffiliate). All of the designs featured above are available! If you need help with this, drop us a line.
Talk Back
How happy are you with your website setup? If you could change one thing about your website, what would it be?