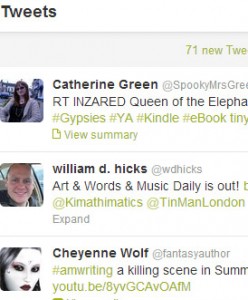 Want more on Blogging, Facebook and Email Marketing? Grab the whole Book Marketing Basics series for less than a buck!
What's it like dining at a crowded restaurant?
You know the ones I'm talking about — the place is loud, busy and it's difficult to hear the person sitting right across the table.
How many people does it take to create that uninviting atmosphere? 100? 200, at most?
Now, imagine a restaurant filled with half a billion other patrons. Shudder. In that case, you couldn't hear your dinner date, even if he was screaming in your ear!
If you're on Twitter, congratulations: you have a reserved table at the world's most jam-packed restaurant.
Alone in a Crowd
With that much shouting, it's no wonder you've found yourself confuzzled about what's supposed to make this Twitter thing so awesome. If you've thrown tweets in to the wind…and heard nary a whisper back, you're certainly not alone.
But, you do have some issues.
Here's the thing: Twitter's getting a bit…stifling. Clicking 'tweet' and hoping for an instant throng of adoring fans isn't going to work anymore.
Once upon a time, that did work. Twitter was hip and exclusive (like that trendy new restaurant off the beaten path). You could tweet something pithy, shocking, or spectacular and go viral, gaining you more fans than you could count, instantly.
Not so anymore. See, everyone else noticed how well that was working and wanted to get in on the action, too. Well, poop.
Goodbye, trendy. Hello, Applebees.
So, like it or not, getting those 500 million others in the room to check out your book is not going to happen. You can, however, create your own cozy corner of the Twitterverse with a more intimate setting.
Even better: you'll save more time and be more effective than those practicing 'wind-tweeting.'
How? You know our shtick: slow down, be consistent — and check out these tips:
5 Keys to Building Your Fanbase on Twitter
Note: these tips are for someone who's relatively comfortable with Twitter basics. If this stuff makes your head spin, check out Joel's guide to Twitter for terrified newbies!
#1: Focus on making connections.
I hate to break it to you, but effective Twitter use isn't a hands-off endeavor.
While processes to instantly accrue thousands of followers exist, Twitter success isn't strictly a numbers game. It's not about how many followers you have, but the quality of the connection between you.
To get a picture of your REAL Twitter sway, mentally list the followers you (1) know by name and (2) have had a meaningful conversation with. I bet it's WAY less than your total count!
Foster personal connections by mentioning folks personally, not in mass. Create value. Start conversations. Give freely. You know, all that stuff we teach for promotion applies perfectly to Twitter, as well.
#2: Be focused.
We hate wasting time, and so do you. Before you log on to Twitter again, go in with a game plan. Ask yourself:
Who do I want to reach? Many authors reach out to other authors (instead of readers) on Twitter, and that's great. BUT, if you do that, don't endlessly market your book. Make community and camaraderie your focus, instead.
What will I tweet? Create a list of what you want to achieve through tweeting (your objectives) and the types of tweets that will guide you in that direction. For best results, mix up your tweets: musings from your daily life, conversations, quotes, links, etc. Keep things random and non-robotic!
#3: Use hashtags wisely.
Hashtags are an awesome way to find like-minded folks (#geek FTW!), but be cool about how you use them:
Follow the rules. Some hashtags are "set aside" for specific purposes and have their own rules. #MyWANA, for example, is strictly against automation and linking to your own work.
Quality matters. Search for recent tweets that include the hashtag. If it's all spam and no interaction, the tag isn't of much use.
Quantity matters…somewhat. If you're including a hashtag to be funny, like "It's a chilly fall day in Florida! #what67degreesiscold," popularity doesn't matter. If you're including a hashtag to be seen, however, research the popularity of the hashtag to ensure it'll garner attention.
Don't go tag-crazy. Include no more than 2-3 hashtags in your tweet, lest things start to look spam-tastic: "Check out the first chapter of my book! https://lin.ky/12345 #writing #authors #stories #selfpub #indiepub"
Be relevant.  I hope this goes without saying, but only use hashtags relevant to your tweet. Don't include a hashtag just because it's popular or trending: "Check out the first chapter of my forthcoming novel! https://lin.ky/12345 #happybirthdayeminem"
For a full list of writing (and reading)-related hashtags (and a great primer on how to use them), check out the guide from Writer's Road Trip.
#4: Participate in Twitter chats.
Twitter chats are fun, fast-moving ways to connect with readers and other authors.
While the best way to learn about chats is to jump right in (sorry!), don't try to follow them from your home feed, lest your eyes glaze over after 10 seconds (ask me how I know!)
Connecting with TweetChat makes chats way more pleasant, and it's easy-as-pie to use: just enter in the chat's hashtag, and you're good to go. TweetChat automatically appends the chat's hashtag to your tweets, too, so all you have to worry about is participating. Woot!
Finding Relevant Chats
The below is a sampling of current (popular) chats. Since there are approximately a gajillion, however, check out the full list of writing-related chats on InkyGirl's website and an exhaustive list of all Twitter chats (you never know where that crazy-dedicated fan is lurking!)
New chats are always being created, so share your faves in the comments — or start up your own!
#5: Create a customized dashboard.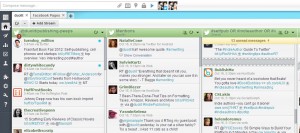 Using your home feed to keep an eye on your followers (and followees) is like watching the credits at the end of a movie. You MEAN to pay attention to see who played the very-attractive Thug #2, but eventually you just get overwhelmed (or bored) and give up.
Instead, use an app like HootSuite to create separate "streams" for the people, lists and hashtags you love most.
As an example, our dashboard includes a list of other peeps from the self-pub blogging community, our conversations/mentions and searches for topics where we can add to the discussion.
Use Your Time Wisely
You don't have extra time to waste on social media, so write down three ways to streamline your Twitter usage (based on the tips above) and post it near your computer. Whenever you feel your grip on Twitter slipping, refer to the tips to get back on track!
Talk Back
Tell me this: how do YOU use Twitter? Do you feel like you're spinning your wheels instead of making progress? Or, what Twitter-ninja tips do you have for other authors? Let's chat in the comments!