It's weekly writing prompt time! This is our new, regular Thursday gig (like open mic night) where we pose a question and open it up to you guys to blog about our topic and link-up your posts in our comments. It's like a sharing circle without the awkwardness and that annoying feelings stick.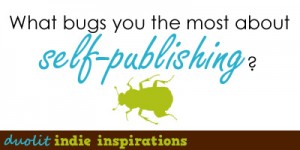 This week's prompt is very near and dear to our hearts at Duolit. We've heard all the disparaging comments that some have shared about self-publishing. And as quick as we are to defend the merits of the industry, we also acknowledge that there are some things that do bug us about it.
So we want to know, what bugs you the most about self-publishing?
This can include frequent complaints that readers have about the industry, barriers to success, or general critiques. We'd also like to hear your recommendations for how we as a community can improve on these shortfalls to make the industry better.
Sound off in the comments below and be sure to include a link to your blog!
Next week's topic is our fun prompt of the month–what's your most delectable recipe?
Later days,
– Shannon