Just want to use the character generator? Click here to go to the YA (Young Adult) Character Generator or click here to go to the Mystery/Thriller Character Generator!
As Shannon mentioned in her previous Character Cavalcade Week posts, we have a very special announcement to make in honor of this week's celebration of characters. She couldn't decide whether actual fireworks would crash the interwebs (or burn down her apartment), so instead I chose a fireworks photo. This way, we're safe! Let the celebration begin!
End Your Character Plights! Break Through a Block! Assemble a Cast!
After days of staring at code until my eyes crossed, I'm honored to announce the grand opening of the first tool in a series that we're very excited about here at Duolit: the YA Character Generator!
This dynamic tool will give you an extra creative push to tackle that upcoming prompt, short story, poem, or novel, generating the information needed to create exciting, multi-faceted and inherently interesting characters.
How the YA Character Generator Works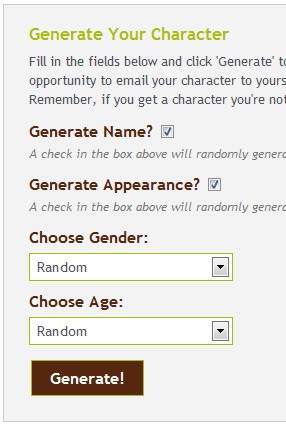 It couldn't be more simple. Really! Just hop on over to the YA Character Generator home page and take a look at the options.
The generator is capable of producing a name, age, gender, role, personality traits, plot kicker, and appearance for your character. If not all of those options are right for you, however, check out how easy it is to change the output:
Generate Name? If you check this option, the generator will choose a name based on the gender you select. We currently use a list of the top 100 names from the Social Security Administration's database, but will likely be expanding it in the future.
Generate Appearance? If you check this option, the generator will randomly choose physical features for your character, including hair color, eye color and body type.
Choose Gender: If you're looking for a specific gender, enter it here, otherwise leave it at the default of random to have the character generator choose for you.
Choose Age: As with gender, you can either choose a particular age for your character or leave it set to random to have the character generator choose an age for you.
Click Generate! and check out the results!
That's it. Seriously! Simple, eh?
After your character is generated, you'll be able to view all of his/her traits and decide whether or not he/she's a keeper. If not, just click the Generate Again button to start over.
To save your character,  either copy and paste the output from the website to your favorite word processor or choose to have the character emailed to your inbox. Don't worry, we won't keep your e-mail address saved and we definitely won't spam you. We offer this as a totally free, no-strings-attached service to all you amazing writers out there.
Just One Piece of the Character Puzzle
Remember, the base character traits generated here are just one piece of the character puzzle — it's up to your imagination to interpret those results to create, perhaps, the next character in our Pantheon!
If you do find the character generator useful, please shoot an e-mail to characters[at]duolitconsulting.com, letting us know how you used it and including a link to your work. We'll highlight some of your stories in future blog posts!
What If YA Isn't My Thing?
If YA isn't your genre of choice, let us know by contacting us or leaving a comment on this post. We're very excited about this tool, and (if we get a good response) definitely plan to continue developing others. In that case, we'll use your feedback to decide what genre to tackle next!
So keep checking back to the blog, subscribe to our RSS feed, sign up for our newsletter, or follow us on Twitter to be notified of when the generators for other genres are ready.
So, what do you think?
Is the Character Generator an awesome idea? A horrible idea? Amazingly helpful? Completely useless? Let us know in the comments!